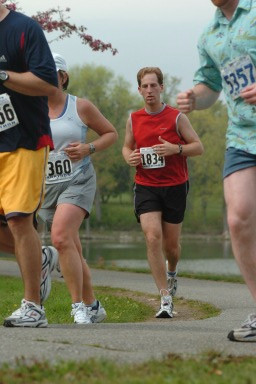 Vermont City Marathon 2005 – a few years younger, a few pounds lighter!
Once upon a time, I was a marathon runner and long before that I ran everything from the 5K to half marathon here and there. After several injuries and growing into middle age, I had stopped running for many years until recently, when I tried to get back into form.
Running is a great way to engage with the community, whether it be hearing your name yelled out when you're getting off of the 59th Street bridge and going onto 1st Avenue in the middle of the New York City Marathon (to quote American great runner Meb Keflezighi "You know the excitement is waiting for you," Keflezighi says of crossing the Queensboro Bridge. "You always hear about it, but to experience it is wild." in the late miles of a marathon), running for charity, or going off into the woods on a trail and experiencing nature.
On Saturday, May 6th, I lined up for the Dime McCarren 5k in Williamsburg, which supports St Nicks Alliance. St Nicks works to improve the lives of low to moderate income people, focusing on elder care, affordable housing, workforce development, and youth and education. Started in 2012, the race has become a fairly popular event, bringing out over 500 runners for a spring race to support a good cause.
While it is a far cry from the 2005 Vermont City Marathon (above), my last race, I was pleased to be able to finish the race without injury and without stopping. My time of 30:45 won't go down in any record books (even mine), but it was good to be back on the road and crossing the finish line after 12 years. I'm looking forward to doing more races and supporting the community even more over the summer and into the fall. Whether you participate or volunteer, hopefully you can do the same!